What are the Benefits of Peer Assessment?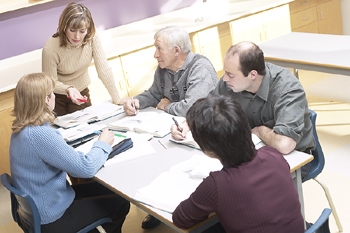 As educators, we have access to various resources that help in designing lessons, assessments and remediation. The same is true with a peer assessment. There are no "cookie cutter" approaches to these assessments.
The assessments are not limited to multiple-choice answers, short answers or essay assessments. Instead peer assessments include the usage of a variety of assessments and activities designed to determine student mastery in an effort to guide instruction.
Students generally have a good understanding of one another and peer assessments allow them to work together while determining each other's areas of mastery and weakness. By doing so, they discover ways to overcome their obstacles and address deficiencies in ways that work best for them, instead of through prescribed interventions provided by a teacher.
Because students speak the same "language," they have a tendency to listen and take feedback from their peers. This type of assessment might be in the form of discussion boards, online chats, swapping papers or even a face-to-face conversation in class.
How can you encourage the process of peer assessment in your classroom?
Learn More… Take this course: Formative Assessment