Dealing with Bullying in School: Should You Intervene?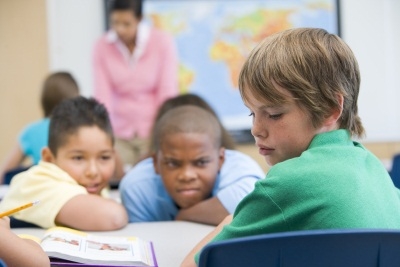 Most incidents between kids occur out of sight of adults, and while it may anger or upset them, rarely is anyone actually physically injured. Thus, adults are put in the awkward position of dealing with bullying in school where they have to handle incidents they didn't observe and in which probably no physical pain or damage occurred.
When adults get involved in helping kids get along, they usually make matters worse. We all are social creatures, born with the instinct to learn how to get along with each other. That is why getting along feels good and not getting along feels bad. And just as we learn to walk and to talk without adult instruction, we learn how to get along with others. In fact, children get along best when there are no adults around trying to make them get along.
This is what happens when an adult reprimands or punishes a bully for bothering a victim:
The bully is mad at the victim for getting him in trouble with the adult.
The victim becomes angrier with the bully because the adult has confirmed that the bully is the bad one.
The bully now hates the adult for punishing or reprimanding her and doesn't want to learn from or listen to the adult, unless he/ she succeeds in getting the adult to punish the victim next time they fight.
The bully and victim will continue fighting each other. The adult thinks he/ she is making them stop fighting, but in reality, he/ she is only making the fight worse. The children are really fighting over the adult and the adult can't see it.
When adults intervene in their zest of dealing with bullying in school, instead of protecting victims from bullies, they are actually reinforcing both the victim and bully roles.
Adults can, however, empower children to develop resilience, emotional maturity and independence. These skills will help the child have a happier childhood and give them important tools to lead an emotionally healthy and productive adult life.
What are some of the ways in which you can empower students in your classroom?
From Professional Learning Board's online continuing education course for teachers: Bullying: The Golden Rule Solution