How do I Help Students Respond to Bullying in the form of Repeated Threats?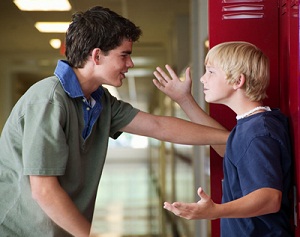 The best way to respond to bullying of a physical nature (like repeated physical attacks or threats) is to ask the attacker, "Are you mad at me?" This brings the situation down from a physical to the verbal level.
Tell the student that if the person keeps on hitting you, they must have a very good reason – they must be mad at you. If they are mad at you, they will tell you why, and you can work it out with them, apologizing if it is appropriate. Then they'll stop hitting you. If they are not mad at you, they'll realize that there's no reason to keep on hitting you, and will leave you alone.
If someone is threatening a child, instead of acting afraid, the child can ask them, "Why do you want to do that to me?" By doing this, the child keeps the "bully" in conversation while asking questions about their motivation in a friendly way, until the "bully" realizes he isn't scaring the child and that he doesn't have a reason to keep threatening the child.
If it turns out that the "bully" is threatening the child because the child did something that hurt him, the child should apologize, and the matter will probably end there.
Learn More… Take this course: Bullying – The Golden Rule Solution
Discuss Here: What are some of the other ways students could respond to bullying at school?