Understanding the Language Experience Approach (LEA)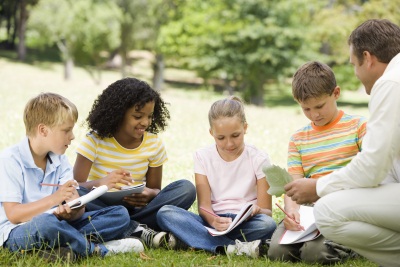 The Language Experience Approach (LEA) is a literacy development method that has long been used for early reading development with first language learners. It is also perfect for diverse classrooms. It combines all four language skills: listening, speaking, reading, and writing. Working on the four language skills side by side aids fluency.
An LEA lesson is centered around a learner-generated text. The rationale behind LEA is that materials with familiar vocabulary and ideas are more meaningful and accessible than texts found in pre-prepared books. For teachers wanting to work on reading fluency with emergent readers, learner-generated texts are ideal.
The following sections describe the steps of an Language Experience Approach lesson.
STEP #1: A Shared Experience
The LEA process begins with something the class does together, such as a field trip, an experiment, or some other hands-on activity. If this is not possible, a sequence of pictures (that tell a story) can be used, as can a student describing a sequence of events from real life.
STEP #2: Creating the Text
Next, the teacher and students, as a group, verbally recreate the shared experience. Students take turns volunteering information, as in a large-group discussion. The teacher transcribes the student's words on the board in an organized way to create the text.
STEP #3: Read & Revise
The class reads the story aloud and discusses it. The teacher asks if the students want to make any corrections or additions to the story. Then she marks the changes they suggest and makes further suggestions, if needed.
STEP #4: Read and Reread
The final story can be read in a choral or echo style, or both. Students can also read in small groups or pairs, and then individually.
STEP #5: Extension
This text can be used for a variety of literacy activities like illustrations or creating comprehension questions.
How can you use this approach in your classroom?
From Professional Learning Board's online continuing education course for teachers:   Teaching English Language Learners