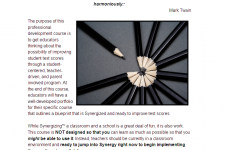 Instructional Synergy™ is a school model that is student-centered , teacher-driven , and parent-involved . This course will provide valuable strategies how you as a teacher can increase test scores in your classroom and at your school through unconventional test preparation methods.
While Synergizing™ a classroom and a school is a great deal of fun, it is also work. This course is NOT designed so that you can learn as much as possible so that you might be able to use it. Instead, teachers should be currently in a classroom environment and ready to jump into Synergy right now to begin implementing the practices immediately.
Become part of the phenomenon that changed a school, swept through a small community and helped a high school dramatically increase performance on state standardized assessments.